The host nation Japan showcased their surfing talent throughout the week, highlighted by becoming the only nation to earn two medals in the Olympic Surfing competition (Igarashi Silver, Tsuzuki Bronze).
Since Surfing's inclusion on the sports program in 2016, Japanese surfing has shown marked improvement on the global stage.
Team Japan earned their first World Surfing Games Gold Medal in history in 2018, followed by a Bronze Medal performance in 2019, and a Silver Medal in 2021.
Surfers such as Kanoa Igarashi, Mahina Maeda, Amuro Tsuzuki, and Hiroto Ohhara, to name a few, have been leading the charge and demonstrating the emergence of the sport in the land of the rising sun.
"The announcement of the Games here in Tokyo sparked something in Japanese surfing," said Igarashi, "You can see the evolution of each surfer in Japan. We are accustomed to seeing the Japanese Olympians that are here competing, but there is a long list of local surfers that are benefitting from the Olympics as well.
"I feel like Japan was already on its way up and the Olympics definitely gave it a boost. My dream one day is to use this boost to push more Japanese surfers, more Asian surfers, to be on Tour. Hopefully one day we have just as many top surfers as America, Australia, and Brazil."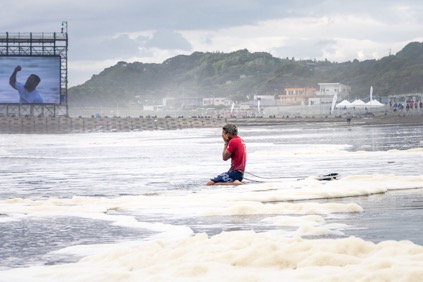 Japan's Kanoa Igarashi shows his disappointment with his performance in the Gold Medal Match, but at only 23 years of age, a long future of Olympic Games awaits him.
Photo: ISA / Sean Evans