To everyone in the Asian Surfing Federation.
I hope everyone is happy under these continuing difficult circumstances with Coronavirus.
I, Atsushi Sakai have resigned from ISA Board Member as the term finishes.
I worked hard as the first Asian member at ISA Board, holding the SUP World Championships in China, the World Surfing Games in Japan, and the Summer Olympic Game in Tokyo.
Although I resigned from the ISA board, I will continue as the president of both NSA and ASF.
Surfing gives us huge energy and I would like many people to experience it.
I will keep contributing for "the better Asia through Surfing"
Thank you very much for your understanding and your help.
I recommended Mr. Kimifumi Imoto as the next candidate for the ISA Board Member.
As you all know, he was selected at the recently held AMG.
It is a very big advantage for the Asian Surfing to have an Asian member at the ISA Board, and we will be able to keep advocating the voices from Asia to ISA.
I would like to ask everyone for your continuous warm support.
Thank you very much.
Atsushi Sakai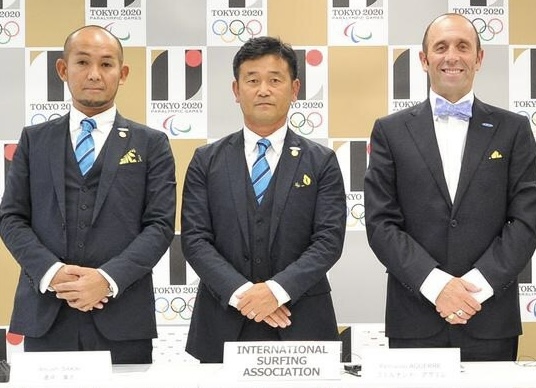 With everyone's support, I was elected at AGM as a board member for ISA.
This never happened without your support and I truly appreciate it.
This means a lot for Asia gaining a seat at ISA Board and this is very important.
I was the Sports Manager for the Tokyo2020 Summer Olympic Games which ended with success.
The preparation for the Asia Youth Games next year has already started, and we will also be included in the Asian Games 2026 for the first time.
I promise to share the knowledge learned from the Tokyo2020, and contribute to the development of surfing in Asia, along with ISA.
With the help from each Asian Federation and each individual, I would like to develop our sport to a new level and make the whole Asian region stronger.
I sincerely appreciate Mr. Sakai for all his contributions connecting ISA with ASF, and also each one of you for your support.
Let's keep working together as a team.
Thank you so much.
I hope to see you all very soon.
Kimifumi Imoto